Led by Executive Chef Aldo Avilez, our culinary team has created a modern American tavern menu, made with fresh, local flavors and ingredients, robust flavors, and a seasonal perspective. Each day, the team starts from scratch to deliver authentic, delicious offerings that are enhanced with Chef Aldo's special selections and holiday menus.
The Story
The historic building that houses Virtue Feed & Grain was once a feed house in the 1800s, bordering historic Wales Alley. A former Alexandria Mayor, Irishman John Fitzgerald, shared ownership of Wales Alley where beer was sold as early as 1786. The alley was named after the brewery owner, Andrew Wales. With re-purposing the building into the restaurant and bar, the name 'Virtue Feed & Grain' emerged from the hopeful intentions of those who thoughtfully and virtuously restored and reclaimed a piece of history. Adding in a play on 'feed and grain' from the warehouse era lent itself nicely to define our modern American tavern. The current interiors of Virtue Feed & Grain show remains of the  past as well as signs of more recent years' history – including the high-water stains marked by Hurricane Isabel in 2005 on the lower level floor beams.
In keeping with the unique history of the building and alley, in 2011, the owners worked with Bonitt Builders, Paul Beckmann/Bartzen + Ball Architects, Decorium Design and artist Andre de Moller to restore and reinvent the old warehouse and former Olsson's Books and Records store, which had begun to deteriorate over time. Bricks were removed to create the expansive windows and re-purposed to create pillars and a dividing wall. The original concrete floor was carefully ground and polished to preserve history's footprints. Various areas of the restaurant were constructed using reclaimed/antique wood with unique origins: the upstairs flooring material came from an old oak barn in the Wisconsin Dells, dating from the pre-Civil War era; the wallboards that wrap interior walls are from a Victorian-era Amish barn in Sturgeon Bay, WI; and the old Seaport Restaurant (now a Starbucks on King and Union Street) supplied the large ceiling beam that supports the large cubist painting. Wired, wavy glass panes reclaimed from a pre-WWII military supply house in the Delaware Valley, refurbished and used to fabricate both bars. The stair treads from the bookstore were salvaged-hand planed, and sealed to make tops for dining tables.
The Team
… meet our February/March Spotlights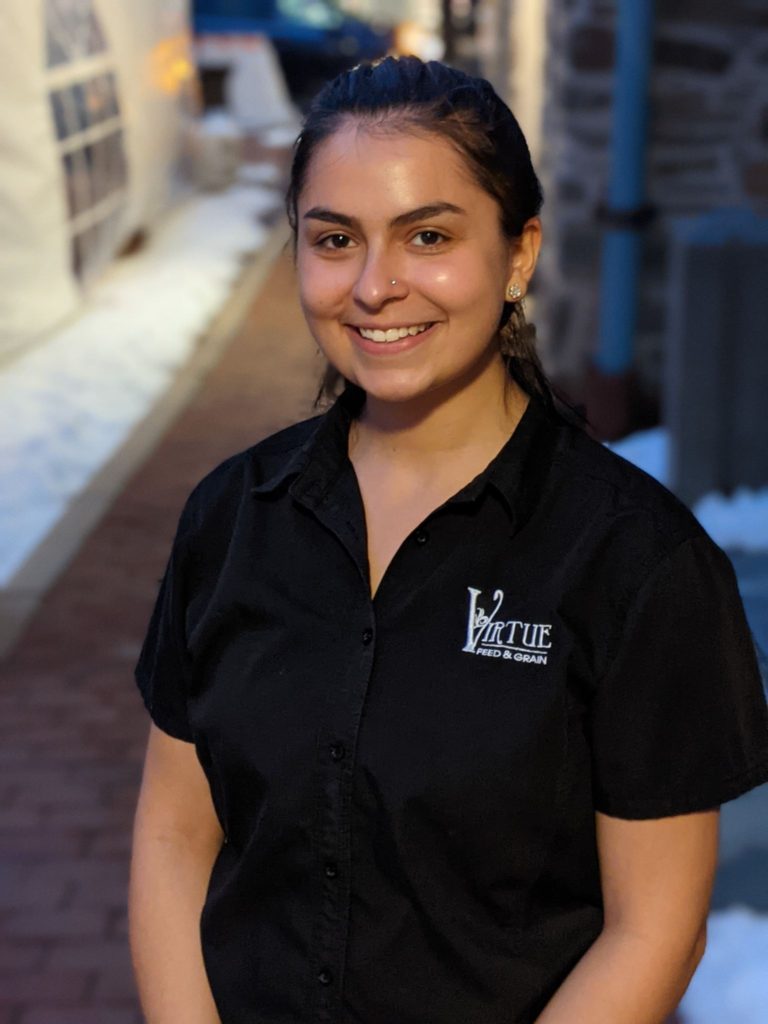 Meet Serina! 
Serina joined our serving team in August 2019, she is now a lead bartender who we can always count on!  Here's more about our Front of House Spotlight …
My favorite thing about February & March is: My Mom's birthday!  I like to celebrate others.
Fun fact about me: I have 10 siblings.
Hobbies: I enjoy cooking & retail therapy (it's a real thing).
What the staff say: Serina is a team player, she's always positive, good listener & great stories!!!
Serina, you are awesome!  Thanks for all you do.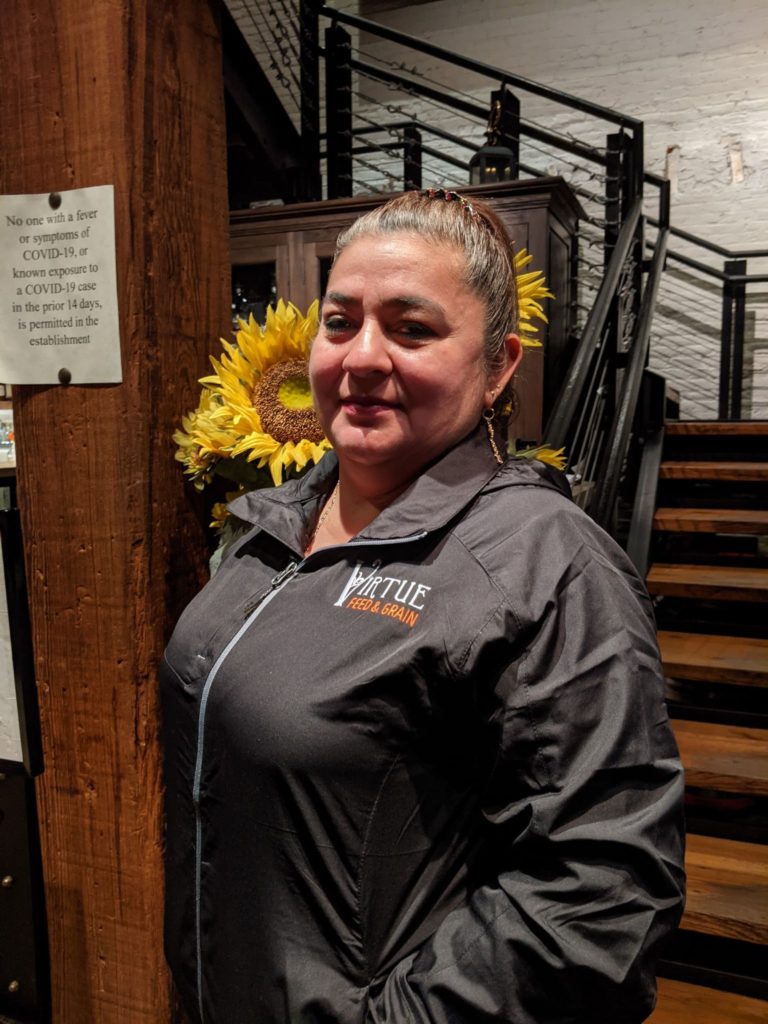 Meet Idalia!
Idalia has been working here for 8 years!  She's helps make our salads & desserts – they are always beautiful.  Here's a little more about our Back of House Spotlight …
From: El Salvador.
My favorite thing about February & March is: Valentine's Day!
Fun fact about me: I like cooking & cleaning. LOL!
Hobbies: At home, I enjoy dancing and listening to music.
What the staff say: Idalia is always smiling and happy, she cares about her job, makes beautiful salads & she's always on time!
Idalia, you always say hello.  Thank you for that.